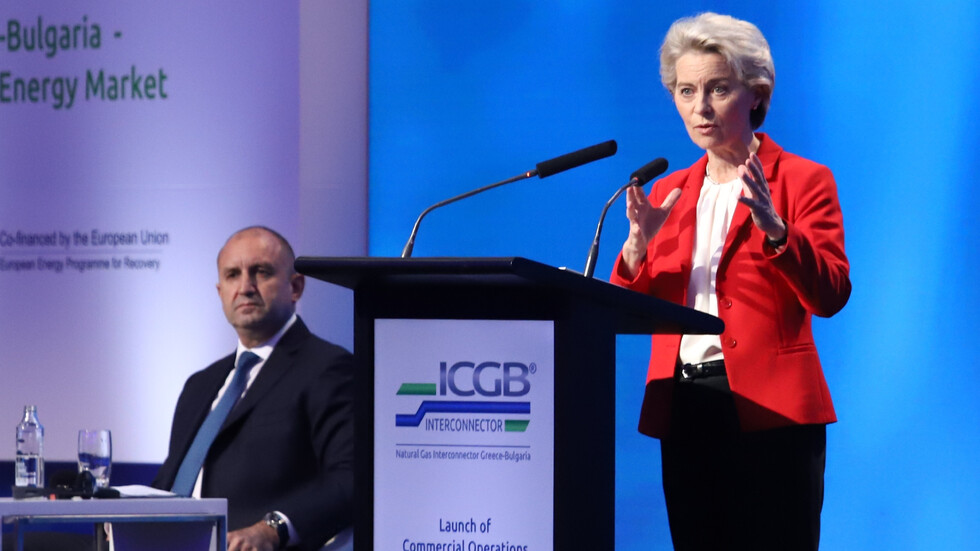 She said that the EU has been supporting the IGB project from the very start
The Greece-Bulgaria Interconnector (IGB) is a game changer, a new era for Bulgaria and for South-East Europe, European Commission President Ursula von der Leyen said during the launch of the commercial operation of IGB in Sofia Saturday. "This pipeline is a game changer. It is a game changer for Bulgaria and for Europe's energy security. And it means freedom. It means freedom from dependency on Russian gas," said von der Leyen.
She said that the EU has been supporting the IGB project from the very start, politically and financially, and provided close to EUR 250 million. She called the project "a new era for Bulgaria" as it used to get 80% of its gas from Russia "before this atrocious war".
The IGB project has been on the table for over ten years. So it has been quite a while. It was launched in 2009, at a time actually when Bulgaria was hardly hit by Gazprom's decision to stop gas flows through Ukraine, and it took a lot of determination to reach the goal, as well as a lot of stamina and strategic patience.
"Both here in Bulgaria and across Europe, people are feeling the consequences of Russia's war. But thanks to projects like this, Europe will have enough gas for the winter," said the EC President.
She went on to recall the steps that were walked to the IGB launch. "The first step was diversification away from Russian gas towards other reliable suppliers. President Aliyev, I visited you in July for that purpose. Our friends from Norway, our friends from the United States, Algeria and many others who helped us in this critical moment. Secondly, of course, savings. Savings to the storage that we are managing together. And we should not forget a third step that is so important, that is the mid and long term, and that is massive investment in renewable energy – wind energy, solar energy, hydropower, biomass, hydrogen, you name it."
In her words, Europe has everything it needs to break free from Russian fossil fuels.
She believes that Europe can handle the serious energy crisis. "And it requires from Europe a common response that allows to reduce the energy costs for families and businesses. That is the aim, we have to achieve this. We have already taken important steps here. For example, yesterday, we all agreed in the European Union to limit the exceptional profits made by some energy companies and to take these profits to support vulnerable households and businesses in a targeted manner."
More needs to be done and in doing so Europe needs to protect the fundamentals of its economy, and in particular its Single Market, the EC President argued. "Without a common European solution, we seriously risk fragmentation. So it is paramount that we preserve a level playing field for all in the European Union, in the Single Market. And it is paramount to avoid distortions of the Single Market."
Von der Leyen said that the task ahead of the EU is clear. "We will do more to contain the skyrocketing energy prices which are weakening our economy. And we have to do it as Europeans, together and jointly."