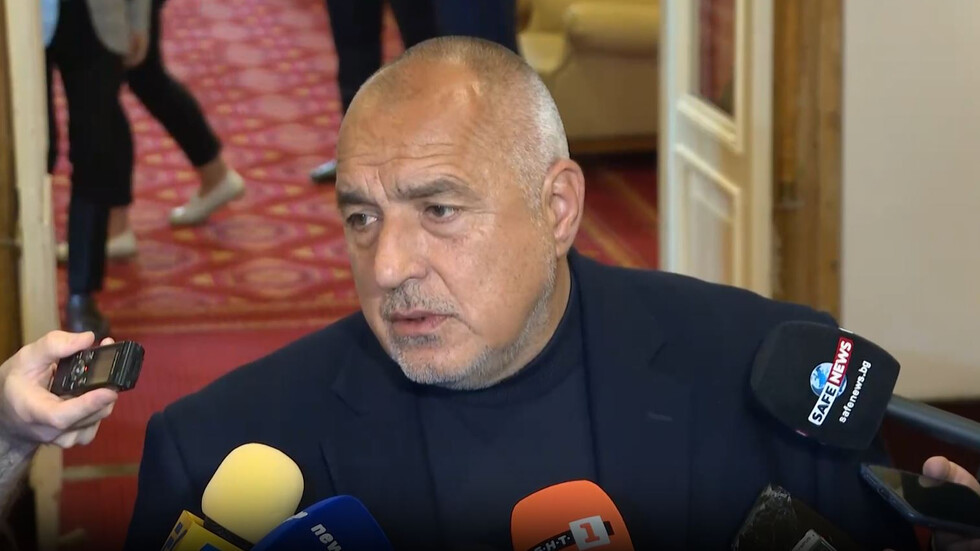 He has repeatedly denied these allegations
GERB leader Boyko Borissov told the press in Parliament Wednesday that he is not giving up his immunity as an MP. That was his response to calls for him to waive his immunity after the prosecution service proposed to the Prosecutor General Monday to approach Parliament to lift Borissov's immunity from prosecution so that it can investigate in a money laundering pretrial proceeding popularly known as "Barcelonagate". Borissov said that he was without parliamentary immunity for two years and is not giving it up now, and that he is being attacked as part of the efforts to prevent the formation of a government of GERB and Continue the Change - Democratic Bulgaria.
The prosecution service said in a press release that the proposal for lifting Borissov's immunity is promoted by incriminating evidence of money laundering collected as part of Barcelonagate, which show that the former prime minister provided the proceeds from crime to third parties for the purchase and renting of property in Barcelona. On May 25, the GERB leader was questioned at the Sofia City Prosecution Office in the Barcelonagate case and about abuse-of-power allegations against him.
Even before the motion for lifting Borissov's immunity, his party decided that it would not back any such motion for any of their MPs.
Here is what Borissov said in the corridors of Parliament Wednesday:
For two years I was without immunity. Now I am definitely not give it up, because you have to be blind not to see what is happening at the moment. Did the services and Interior Minister Ivan Demerdzhiev find out yesterday about the 'dead souls' or the leak of secret information? This is done to prevent the formation of a government. Why did they demand my immunity yesterday [even though Barcelonagate is five-year-old]. I have not, do not and will not have any property in Spain.
The "dead souls" metaphor was used by the Interior Minister on Tuesday in Parliament as he spoke about irregularities in the distribution of aid for Ukrainian refugees by the Kiril Petkov government, suggesting that some of the money was wrongfully spent (for "dead souls"). Also in Parliament on Tuesday, State Agency for National Security chief Plamen Tonchev spoke of leak of classified information to Skopje during the Petkov government.
The GERB leader said that mud started to be dug up against "the pro-reform parties" and parliamentary immunity of MPs were challenged as soon as a bill was passed for a judicial reform. "There is no coincidence here. What I see is an attack against GERB and against Continue the Change – Democratic Bulgaria. The moment we adopted the bill for the accountability of the Prosecutor General, they started acting, they started attacking the pro-reform party in order to block all talks [on the formation of a government]."
Borissov also said: "The chaos is huge, especially now that have no state budget, Recovery Plan, eurozone, Schengen, with the situation in the Balkans and the devastating war in Ukraine. For all of these, we need a Parliament-elected government. The government needs to have a format that would build trust among the political formations in Parliament."
Barcelonagate
In late 2019, the Barcelona-based El Periodico daily published an article saying that the Catalan police and the anti-corruption prosecution office in Madrid were investigating a potential involvement of Bulgarian Prime Minister Borissov in international money laundering, with Barcelona as the final destination. The investigation was launched after the Catalan police found "indications of truth" in an alert submitted by the Bulgarian civil association BOEC in March 2019. The subject of the active investigation was Borislava Yovcheva, a Bulgarian former model found to be living in a luxury house in Barcelona registered with one out of two companies that had received EUR 5 million since 2013 from natural persons outside of Spain. A potential connection between Yovcheva and Borissov was under scrutiny, El Periodico wrote. The Spanish newspaper sent an enquiry about the case to Borissov's cabinet on February 13, 2019 but did not receive a reply.
Borissov has repeatedly denied these allegations.
Two of the parties in Parliament, Vazrazhdane and BSP for Bulgaria have repeatedly called on Borissov to waive his immunity. Continue the Change have a principled position that whenever the prosecution service moves for lifting an MP's immunity, he or she has to decide for themselves to waive it or not, said Continue the Change Prime Minister-designate Nikolay Denkov. "If that person was me, I would give up my immunity without giving it a second thought," he said.
In a Facebook post Wednesday, There Is Such a People leader Slavi Trifonov wrote that "Borissov refuses to waive his immunity and Continue the Change are protecting him with their bear chests", and that is "surreal". "Continue the Change was essentially established to counter Boyko Borissov. Now Borissov and [Continue the Change co-leader] Kiril Petkov are together in an embrace with no shame before their own voters".
More people questioned
Also on Wednesday, the prosecution service continued questioning witnesses in the Barcelonagate case. Two people were questioned: former model Ivayla Bakalova and former LUKOil Bulgaria Director Valentin Zlatev.
Before meeting with the prosecutors, Bakalova told reporters that she "knows enough and other people know as well but they are afraid to speak up". She also said that she is happy the prosecution service "finally woke about this case".
Zlatev was more reluctant to speak to the press and said the law does not allow him to disclose details. He said that it is the first time he was questioned in connection with Barcelonagate.